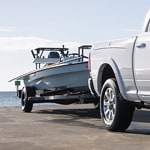 Ram 2500 continues to dominate the heavy-duty pickup truck category, thanks to its power and precise handling. This worksite staple is a favorite among our Norris-Northup Dodge Inc team, especially when we need to haul and tow tons. Ram 2500 powertrain options let you pair engines and transmissions of your choice to suit your needs and preferences.
The 5.7L HEMI
The 5.7L HEMI V8 is standard on Ram 2500, a Ram legend whose hemispherical combustion delivers 383 horsepower and 400 lb.-ft. of torque. Such enormous power lets you tow a little less than 14,000 pounds, making this engine the choice for residential and commercial worksites.
Six-Speed Automatic Transmission
Six-speed automatic transmission is one of two options with which you can pair your 5.7L HEMI v8. Six-speed capability gives Ram 2500 responsive powertrain architecture, with electronic controlling and gear ratios that are optimized for smooth handling, precision and efficiency on roads in Gallipolis and beyond.
Explore Ram 2500 powertrain options today, or test drive one at Norris-Northup Dodge Inc.